Working out the removals costs to Spain need not be theminefield of excessive informationto be found on Google, here Nicks Removals summarises all you need to know. The costs are usually based on the amount of space taken up in the removal vanand is calculated by cubic metre.This is then coordinated into distance items need moving (pickup and delivery location). Allcustomers' needs are different and other factors may apply with additional services needed i.e. storage, dedicated loads, packing and unpacking services, smaller van for ferrying loads where access is restricted(narrow or difficult access areas). Most Spanish removal companies offer a range of services to meet the client's specific moving needs.All these factors will determine your removal quote there is no average price.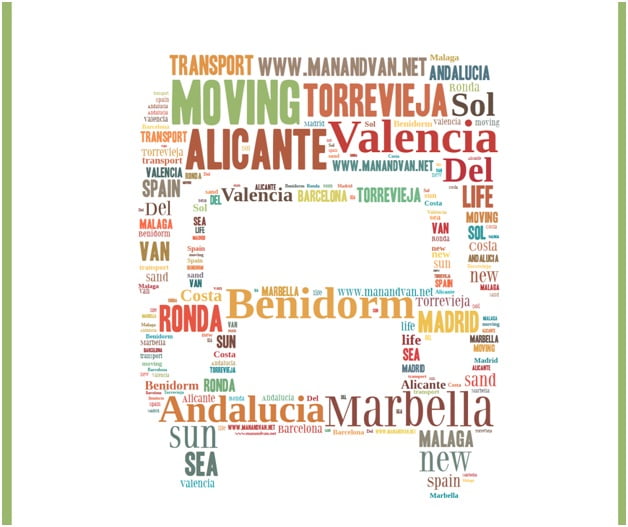 To ease the stress, Nicks Removals have drawn together some helpful advice and guidance to give you an idea of the process and hopefully save you money and time.
Has a general rule its best to obtain at least three quotes you can seek more and try different types of moving businesses (man and van service, smaller removal companies, larger established brand name companies) whichever you choose will obviously reflect in the service and quote. The most expensive will not necessarily be the best service so recommendations and online reviews will help with this choice.
Depending on the size of your move a pre survey visit may be needed to assess the amount of belongings to be moved this may not always be needed. If for instance you are moving a single item or a smaller load this could be booked with an inventory and submitted photos of items to be moved.
Volume of goods: Total amount of your belongings to be moved, typically in cubic metres. This is important and is the mainfactor that determines the quote you will be given. If you are packing yourself check our advice page on how to pack correctly and keeping the volume to a minimum. It is also a good opportunity to de-clutter and dispose of belongings not needed. If you are booking a part load be clear what it is you need moving if the removal company are unsure they will veer on the side of caution and quote the higher side.
Distance: Most companies will collect and deliver on all the major routes in the UK and Spain, your pick up address and your destination address will also be a big factor in determining the costs for transport. If you do need a pick up or delivery "off the beaten track" this does not mean 20 miles inland from Marbella but more like parts of Northern Spain or in the UK North western parts of Scotland. In general if you are more flexible with pickup and delivery dates with part loads this can help with the logistics, removal vehicles in your area at a convenient time for both parties can keep the quote down.
Storage services: If your belongings are not being delivered direct and you need storage most removal companies will have their own storage facilities but not necessarily near your destination. They should however be able to advice on a local possibly affiliated storage company or use another removal companies unit to make sure that your belongings are kept secure. If it is only temporary or short term storage most removal companies you book with will provide this free of charge if they are conducting the move. Check your temporary storage requirementsare included in the cost of your quote.
Packing materials: see if any packing materials are included in your packing service costs, or if you are packing yourself confirm how much these would cost to be purchased from the removal company.If you are choosing a Nicksremoval service with packing then our move plan and quotation will include the cost of materials. If however you choose to pack yourself then we can supply you with any packing materials you may need. You can either visit our site for packaging materials or choose the right house packing kit for your house size. Any special care items that might require that little extra protection for example crating for a precious antique or picture, grandfather clock or extra wrapping for highly sentimental items. Crating itemsif you have fragile antique items or electronic goods that do not have their original packing box, it is good to let the home removal company know. Occasionally items can be safer to move in a purpose built wooden crate. It is important to check that these have been included in your quote.An extra handling charge or insurance premium might be required if you have fragile or very expensive items such as antiques, fine arts or a piano
Insurance: There are many types for insurance cover for moving goods the basic would be goods in transit GIT. Check that your removal company are fully insured and have the relevant removals insurance to cover your specific goods. When you get your quotes for removals you should get a basic cover this may not include items you have packed yourself. So make sure your items are fully covered for peace of mind that your possessions will be covered during transit.
Access – the access at both your old home and destination home (how close a Removal van can park to your front door) whether there is any obstructions like low bridges or narrow lanes to get to your property. This is important as it might limit what size vehicle can be used and if any smaller shuttle vanwill be required to ferry loads from the bigger van to your home.
Costs and removal quotes will vary between moving companies depending on the levels of service they offer. Smaller removal companies and Man with a Van style companies will likely charge less than bigger established companies. Members of professional associations such as the BAR British Association of Removers will on average charge more however remember the levels of service you receive may vary.