When someone pays a visit to your home, the first thing you'd check is the bathroom. There's something in that tiny area of the house that makes you feel anxious that it might scare the visitors off. Funny, when you think about it but we all have the same feeling about our bathroom.
It's not really hard to explain why. Bathrooms are the most used and abused part of the house, since that's where all the dirty business happens. We most certainly do not want our guests to witness any trace of that. But aside from the stuff that are supposed to be flushed, what exactly are these things that make our bathrooms look untidy and dirty?
Lucky you, we spent some time trying to figure that out. Here they are!
Unorganized toiletries
Irregularly-shaped shampoo containers, colorful body wash tubes, and half-finished beauty regimen jars all lumped up above the toilet bowl tank. What an eyesore! No matter how expensive or glamorous your toiletries are, they will not look pretty inside your bathroom if they are not organized. Our tip is for you to install glass or plain white parallel floating shelves on the walls of your bathroom when you can put all those toiletries after every use. This will make your bathroom more organized and less chaotic.
Hanging fabrics and body sponge
We understand that you cannot just store these things inside the bathroom cabinet. You have to hang them to let them dry. But it totally looks terrible if you place your sponge and wash cloth on the towel bars or in any corner it feels convenient to put. There should be dedicated holders for these items which are much smaller than the towel holders. Take a look at these bathroom buttons below. Don't they look gorgeous and neat?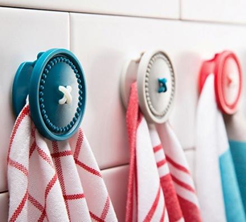 Rusty pipes and fixtures
No matter how thoroughly you clean your bathroom, if a single pipe is rusty, it instantly looks nasty. Rusty pipes and plumbing fixtures inside the bathroom do not only result to a bad impression from a guest. They may also lead to plumbing emergencies such as leaking and pipe bursting. Before you come face-to-face with this scenario, hire pros who provide pipe bursting and repair services in Singapore to prevent a problem.
Ageing white plastic decorations and containers
We all love the clean ambiance that white canisters, cabinets, and shelves create. It's the purest color that you can pick for your bathroom. But when some of these fixtures, decorations, and items start to age, scratches and yellowish parts start to become visible. The sad part is, even when you clean them, it's almost impossible to restore their fresh and pure facade. The better options is to paint them if you don't want to replace them.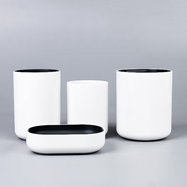 Kiyolo photo
Damaged wallpapers and paint wearing off
These things cannot be cured by scrubbing or cleaning. Wallpapers and paint are prone to wear and tear. They are meant to wear off in time. We all know how old and dirty they make our bathrooms look. So when this happens to your wallpapers and paint, solve it right away or your bathroom will never look fresh again.