There are some advantages to working for a small company, and one of them is that you won't have to consider too many things when planning for that once or twice a year party. However, regardless of the size of the party you're planning to throw, keep in mind that if you don't take the time to craft it properly, it's going to be a disaster waiting to happen. Here are top tips to consider to make sure everybody remembers your small office party for positive reasons!
Assign A Party Committee
Even if you think you can, never organize a party on your own. Delegate some tasks to make the workload more manageable, even just buying discount party supplies you'll need. Of course, you wouldn't want to give assignments to those you know would rather stay up late to work than plan a party, but to those who are actually excited about the idea. You'll have an easier time planning the event and getting multiple perspectives if you'll work with people who are eager to organize the party with you.
Pick A Theme
This sounds cliché, but choosing a theme for your party will make the planning process smoother and will actually make the party more fun and memorable. There's a reason you're throwing a party in the first place. Use that as a basis for your theme. With a theme in mind, you'll have an easier time later on deciding on what food to serve, what games to play, and what attire to wear.
Choose A Venue
It's a good idea to throw the party at the office itself. For most, this might be an advantage since the place is already familiar and comfortable. And, since it's your own office, it would be easier for you to decorate. Moreover, it's exciting to see the space at a different light. If you want a change of scenery, though, you can always go for a different venue. The advantage of using a different location is that you won't be forced to spend money on decors. Just make sure your venue of choice provides an atmosphere that suggests the party is a reward and a time for everyone to take a break from work.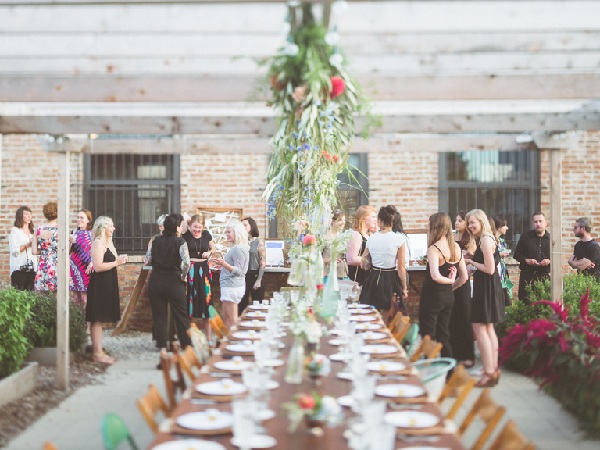 Skip The Potluck
Whether you're having the party at the office or at a different location, you might want to skip the potluck altogether. Potlucks are a great way to get everybody to participate, but why cause your own colleagues the inconvenience when you have the caterer worry about the food? Of course, you would want to make sure you hire only the best caterer in town. More often than not, people would forget every other detail of a party, but they will never forget how the food tasted.
Go For Some Good, Clean Fun
It may be a good idea to drink on your boss's dime, but a party can still be fun without alcohol. If people want to drink, let them drink, but inform them ahead of time that it won't be the main attraction. There's a chance many of you at the office do not drink or have young kids and need to be home early. When there's limited alcohol, there's definitely limited trouble. And, you'll be able to enjoy much of the party when you're sober anyway.
Party With A Cause
Your party may be a small one, but you can make it truly meaningful if you can use the time to give back. Some ideas would be to pick a community that your team could cook for. You can also take your crew to a charity, a nursing home, or a hospital. It doesn't have to be big and you can keep things casual, yet interactive. What's important is that you can give your time. This is actually a better idea than throwing a lavish party that only you and your little band would enjoy.