On average, an Australian full-time employee spends more than 41 hours per week working. That translates to over 13 years, two months of work or one-third of the individual's life span.
If people are spending a significant amount of their life in the workplace, it better be a friendly and fun place to be.
Apart from the fact that the workplace is where people spend most of their waking hours, as an employer, you also want to make sure your office is as welcoming and friendly as possible to boost productivity.
Your staff are more likely to stay in their job in a relaxing, fun and friendly work environment. Want to get started with redesigning your office to become more friendly? We hope you get inspired by the ideas here.
Start from the basics
It might not be too obvious but little changes – a new ergonomic chair here and a bit more lighting there – could go a long way in turning once bland office space into a welcoming, warm oasis.
While you want to provide your employees with all the resources, they need to do their job; you also want to ensure that the basic stuff – like comfortable, well-padded seats, well-lit workspaces, plus adequately ventilated spaces are in place.
Ensure the optimal temperature in the room. As research has shown, a difference of a few degrees can have a significant impact on employees' concentration and productivity.
Installing an air conditioning system and allowing employees to decide office temperature are a couple of ways to optimize air quality and the environment in the office.
Break monochrome walls with well-placed artworks
You may think having sanitized, lean offices will encourage staff to get on with their job without distractions, but there is no study to support such thinking.
 It is not surprising that today, dull workspaces and cubicles are making way for comfortable, home-away-from work environment designs that get people excited, happier, and always looking forward to getting to work.
A splash of artworks strategically placed on office walls will not only liven the workspace but is also key to improving productivity and boosting staff creativity.
Be sure though to go for art pieces that speak to your core values or tell your brand story or abstract art to inspire creativity. You can also spice things up by opting for bright, warm colours like orange instead of drape grey or impersonal white colours.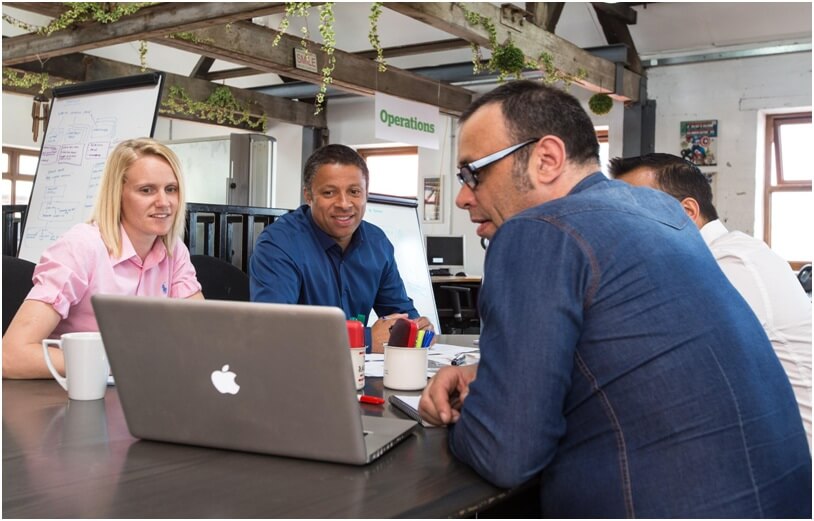 Image Pexels License CCO
Bring the great outdoors inside
Research has shown that when people work in office spaces that have great views overlooking a forest or a big green park, they tend to make fewer mistakes. They are also generally less stressed than their colleagues without such views, happier and more likely to stay longer in the job.
If you cannot afford such views, simply bringing trees and house plants into the work environment also creates the same effect.
Invest in break room amenities
Ever wondered why year after year, Google is rated as one of the top places to work?
Well…for one, the employee complimentary perks are mouthwatering. Google provides restaurant quality free launch for their staff, there is onsite gym and even sleep pods employees can use to recharge.
A well-equipped break room is an essential feature of a modern organization that wants to motivate, inspire loyalty and encourage healthy lifestyles in their employees.
Encourage a collaborative work culture
Granted, some firms thrive in a cut-throat, hyper-competitive culture among each other.
But, if your goal is to manufacture a warm, welcoming and friendly work environment, you will have to encourage an atmosphere where everyone is open, collaborative and ready to share knowledge with team members.
Encourage after work hours socializing
This does not have to be only an evening or weekend of fun and frolics; you can have periodic get-aways with your team.
The idea is to get team members together in a non-work environment where real conversations and connections can take place without the stress of work.
Also, encouraging social interaction as studies have shown, helps positively improve staff morale and team spirit. Employees with friends at work tend to be happier and more motivated.