Buying a prom dress surely is one of the most awaited and looked forward to moment in any high school girl's life. Getting to try so many prom dresses of different styles, colors and designs can automatically lighten up her mood and bring a wide smile. Prom surely is one of the most anticipated events in a student's life, and that is why it is extremely important for you to dress properly. After all, you only get one prom in a lifetime, and this is the reason you need to make sure to choose the right dress according to your complexion. In this article, we are mentioning a few guidelines that will help you to buy the prom dress according to your skin tone.
 Summer
People with this tone of skin have very less contrast between their hair color and skin color. They have hair that is a shade or two lighter than brown which provides them an ashy look overall. Your skin has undertones that are different shades of red, pink or blue. A monochromatic, prom dress color scheme will work just fine for people with this skin tone. Softer colors are recommended as they will complement the skin tone in a better manner.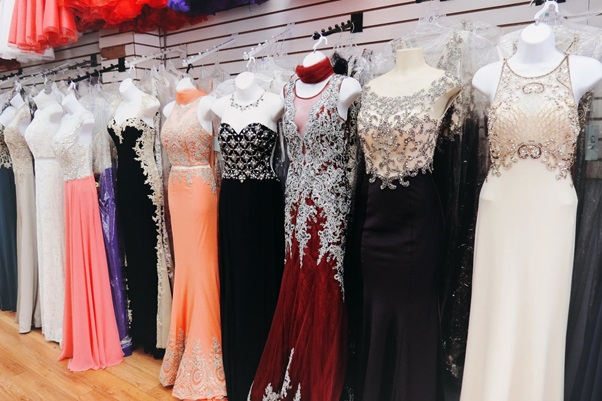 Winter
These people are known to have a somewhat intense overall look with light colored eyes, darker hair, and pale skin. The skin provides red, bluish and pink facial undertones. You need to choose your prom dress in sharp colors like dark pink, ruby or blue if you have winter skin tone. This skin tone is meant to suite well with the high contrasting colors. You need to avoid the earthy tones and will not at all suits your skin complexion and will make you look a little dull.
Spring
This one is one out of the two warm skin tones that happen to exist. People with spring skin tones happen to have warmer undertones like orange, gold or yellow. For people with this complexion of skin happen to have clear and a little bit pale complexion. For people with this complexion, it is best to choose a dress that has gold, orange or peachy undertones. Maroon color will also do complete justice to your skin tone. You can imagine, Emma Stone or Taylor Swift to get a better idea about how people with this skin tone are.
Autumn
This is another warm tone, and the difference is that it is a little yellowish as compared to the spring skin tone. The people having this skin must opt for the long prom dress is available in the shades emerald colors, moss, yellow, red or olive. You can also go for metallic dresses without any doubt as they will compliment your skin tone pretty well. You need to avoid the dresses that have blue, silver or white shades. You need to stay away from any of the bright and sharp color, and it will make your skin look paler and that too not in a good manner.