Recycling and repurposing have been ruling the modern home and interior design industry for a long time. Homeowners and interior designers these days are more interested in living an eco-friendly lifestyle. So, the use of repurposed and recycled materials have increased in our home décor and furnishings.  
One such material that has grown into popularity is reclaimed wood. Inexpensive yet abundant, the creative use of these castoff lumbers into your home transforms it into a peaceful retreat with a modern rustic style. Check out some of the creative ways to use reclaimed wood in your home décor:
Reclaimed Wood on the Coffered Ceiling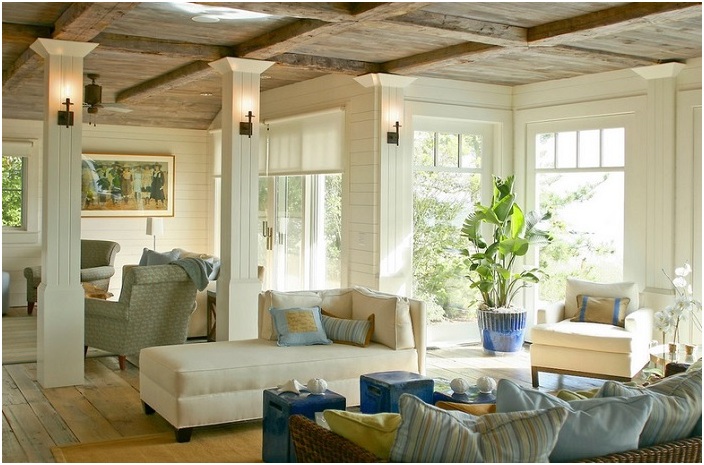 Reclaimed wood can adapt to a wide range of tastes and styles. So, using it on the ceiling of a kitchen or living room won't be a problem to match with the rest of the décor. The wood's richer and deeper finish will lend the place a rustic vibe along with bringing warmth to it. If you have a knack for classic coffered ceilings, use reclaimed wood planks as the beamed ceiling. They will nicely enhance the vintage details that you'll want into a place decked with rustic or transitional styles.  
Reclaimed wood is versatile. The wood tones nicely blend in into any décor – whether it is a relaxing and warm rustic style or a chic and sleek modern style. So, reclaimed wood is the perfect interior finish for your trendy, modern kitchen. Use the mismatched wood pieces on the kitchen island and cabinet with bits of old finishes for visual interest.
Many homeowners are hesitant to mix woods of different tones – one color finish on a wall and another on the floor. However, reclaimed woods are an excellent choice for a mix-and-match style, for their rich wood tones help them stand out and make pulling out of that difficult decorating trick much easier. So, you can easily bring together pieces of woods featuring different colors and tones to create a colorful and stunning accent wall.
Reclaimed Wood for Patchwork Effect
Reclaimed timber from different barns can be gathered together for creating an interesting visual effect. Collect wood pieces from various tree species in a range of shapes and sizes and piece them together in a wall to create an exclusive patchwork effect. The rich wood tones will provide the perfect finish for a home where the owner wants to juxtapose a modern style with a vintage vibe.
However, if you don't find woods of different color tones, paint the planks in multiple colors to give the wall your desired look. Sand the planks a bit after the paint is dry to give them a worn, distressed look.
Bring Warmth to the Bedroom
Reclaimed wood offers warmth, texture, and grain – all the features that you'll love to have in your bedroom. Emphasize your bedroom with warm colors and accents by bringing used timber into your bedroom. Use them to make a customized headboard or a rustic canopy over the bed. Don't forget to sand down the planks with wire wool and then applying a light coat of oil to clean them before installation.
One downside of reclaimed woods is you won't get them at your desired sizes or shapes. They are available as they are and you have to use the different-sized pieces cleverly for creating a consistent look. However, small pieces can also be used in interesting ways. Many creative options are there for restrained displays of used timbers. So, if you have only a few pieces of wood or don't want to use them in a broad area, use the planks for shelving, mirror or picture frames, or as a vent hood frame.
Sand the planks in various degrees to give them the tone you want. Keep the tone rich if the color palette of the room is neutral and lighter for a colorful lace to create an interesting contrast. You can incorporate reclaimed wood into your home décor in a score of additional ways. They can go into the flooring, doors, stair treads, and many other areas. They lend coziness to a space and upgrade the look of a place completely with their richly natural stain.